Dietetics
Improving the quality of life internally to make you shine externally
Claim Your Free Guide :
Discover The 5 Biggest Myths About Weight Loss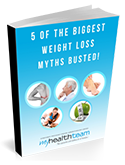 Get Immediate Access To Top Tips From Our Dietitians and Exercise Physiologists!


Yes! Send me a
free report
Free Taster Session
We realise some people may be "unsure" what service is right for them. You may not be 100% sure it'll work, or whether we can help you, or maybe you had an unpleasant experience somewhere in the past? If that sounds like you and you'd like to come in and see for yourself please fill out the short form below and tell us more about you so we can answer your questions:
Apply for a Free Taster Session
Talk to a Dietitian First
You might not be quite ready to go ahead and book an appointment with a Dietitian right now. Maybe you have some burning questions and think it would be helpful to talk with someone at My Health Team first, so you can be 100% sure that we can help you. If this sounds like you, please click the button below and fill out the short form to schedule a call and one of our Dietitians will answer all the questions you have over the phone, completely for free:
Enquire about Cost & Availability
Welcome to the My Health Team dietetics clinic
We provide dietetic services to residents of Redcliffe, Scarborough and surrounding areas in Australia.
You will meet one on one with a dietitian who will do an initial assessment to ensure that your wellness is not compromised by an inadequate diet.
We will work with you to address your dietary concerns including weight management and the creation of special eating programs to accommodate conditions such as diabetes, heart disease and gastro-intestinal conditions.
We offer customised counselling to help you change your eating habits.
We are conscious that dietetics is not a one-size-fits all science and we will work with you to develop healthy and nutritious eating habits that work well to promote your optimal health.
We are experienced in working with clients impacted by cancer, chronic fatigue syndrome, coronary heart disease, depression, diabetes, diverticulosis, eating disorders, food allergy and intolerance, HIV positive, hypertension, kidney disease, liver disease, multiple sclerosis, overweight, osteoporosis, and Parkinson's, among many others.
Renal issues
Information is empowering when it comes to eating well even when you are dealing with health issues such as kidney disease.
Our practicing dietitians are experienced in helping you adjust your diet and enjoy foods that protect against oxidation whether you are dealing with the disease through diet and medication or on dialysis.
Cancer
Eating the right kinds of foods before and after treatments for cancer is especially important.
Having a diet that is adjusted to helping you feel better and stay stronger will not only allow you to get through the treatment process better, but also to make a faster recovery.
We have worked with many clients who suddenly find they don't want to eat at all through their treatments. We can help you find the right combination of nutritious foods that work for you.
Food Allergies and Intolerance
Learning how to secure the nutrients you need to stay healthy when your diet is limited by severe food allergies and intolerances is important.
We have worked to create a series of eating guidelines to help you avoid the foods that make you ill but find substitutions for key nutrients that may be absent from your diet.
Gastrointestinal Disorders
Clients who suffer from severe gastrointestinal disorders including diverticulitis and irritable bowel syndrome often end up avoiding restaurants and social events for fear of embarrassing accidents.
We can help you develop strategies to get the nutritious diet that you need while avoiding the triggers that set off your attacks.
We can help restore your quality of life and celebration of holidays where food is featured by planning ahead and having a strategy for successful eating.
Sports Dietetics
If you are training for a triathlon, your diet will be quite different than if you are training to compete in a weight-lifting event.
We will work one-on-one with you to guide you to a program of eating that is sports-specific and will help you to perform at your peak when the competition comes around.