Heel Spur
HEEL SPUR
Heel spurs have copped a bad rap for decades. They have been diagnosed as causing heel pain. Many people have walked into our Redcliffe Heel Pain Clinic asking how we can help remove their heel spurs to provide relief. PLEASE NOTE THAT HEEL SPURS ARE NOT CAUSING YOUR PAIN. Bone spurs can be caused from the planar fascia repeatedly pulling against where it attaches to the bone. This causes micro tears and sometimes a pointed outgrowth of the bone (bone spur) occurs as the body's response to try to firmly attach the fascia to the heelbone. This appears on an X-ray of the foot as a heel spur. Bone spurs occur along with plantar fasciitis but they are not the cause of the problem.
Plantar fasciitis can often be described as walking on a stone, or a sharp pain as you get up out of bed in the morning. Our specialist team sees plantar fasciitis regularly in our Redcliffe clinic and treats the underlying cause which leads to stress on the plantar facia. This treatment often eliminates the symptoms.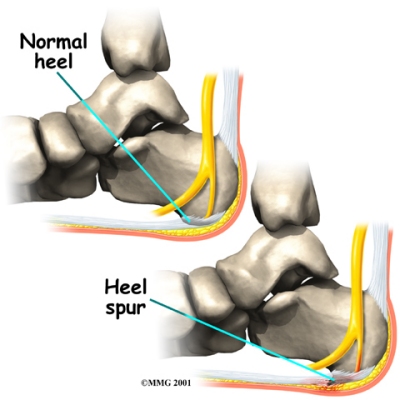 Treatment
At the Redcliffe heel pain clinic we have a 3 step process to treat the underlying cause of plantar fasciitis:
Intensive period of focused ligament and muscle therapy

This may involve: Massage, dry needling, stretching, strengthening, icing, NSAIDs

Prescribe arch supports to reduce the load on the plantar fascia (if required)
Restore appropriate functional movement patterns (biomechanics)

An Exercise Physiologist will take you through a program in our purpose-built strength and conditioning centre to address the underlying cause of your condition and ensure it doesn't come back again. This is especially helpful when getting our clients back to their sport or work.